Suji Potato
Reading time ~2 minutes
Semolina is a coarse flour made from durum wheat, a tough type of wheat. When ground into flour, durum wheat is labelled as semolina and has been used in bread, pasta, and porridge all over the world. This flour is darker and more golden than all-purpose flour. It has a mild, earthy scent. In addition to its culinary applications, semolina also benefits from weight control, cardiac protection, and the digestive system. Sooji is an all-time healthy alternative for flour. It can be used to bind anything.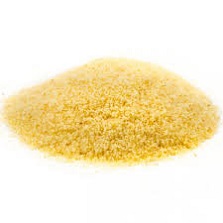 Potato and Sooji Snack is a healthy and tasty Indian teatime snack. Made with Indian semolina/sooji, lots of greens with Potato and cheese, these Semolina Potatoes and Vegetable Cutlets are perfect tea time snack or breakfast. It's the perfect Shaam Ka Nashta, as we claim in India.
*INGREDIENTS:
1/2 cup sooji/ Semolina
1/4 cup Onion Chopped
1/4 cup Fresh Peas
1/4 cup Beans Chopped
1/4 cup Carrot Chopped
1/4 cup Mushroom Chopped
2-3 cup Water
Salt to taste
1-2 teaspoon Mixed Herbs
1 cup gms Boiled Mashed Potatoes
2 Green Chillies Chopped
2 tablespoon Mint Leaves Chopped
2 tablespoon Coriander leaves Chopped
2 tablespoon Cheese Grated
*PROCESS:
*NUTRITION:
Calories: 189
Fat: 5g
Cholesterol: 5mg
Protein: 7g
Carbohydrates: 29g
*NOTES:
If you do not have butter paper, you can grease the mould using some butter or ghee.
Use roasted Rava to prevent rava from turning into sticky.
Instead of cheese, you can use grated paneer or both too.
If you feel the mixture is very loose, you can add some rice flour.
Make sure you do not fry them straight out of the freezer or there is a chance of them breaking apart.
Similar stories or updates
Become part of the community
Sign up for curated informational content & updates.